A bargain community school hostel for the children of Chepang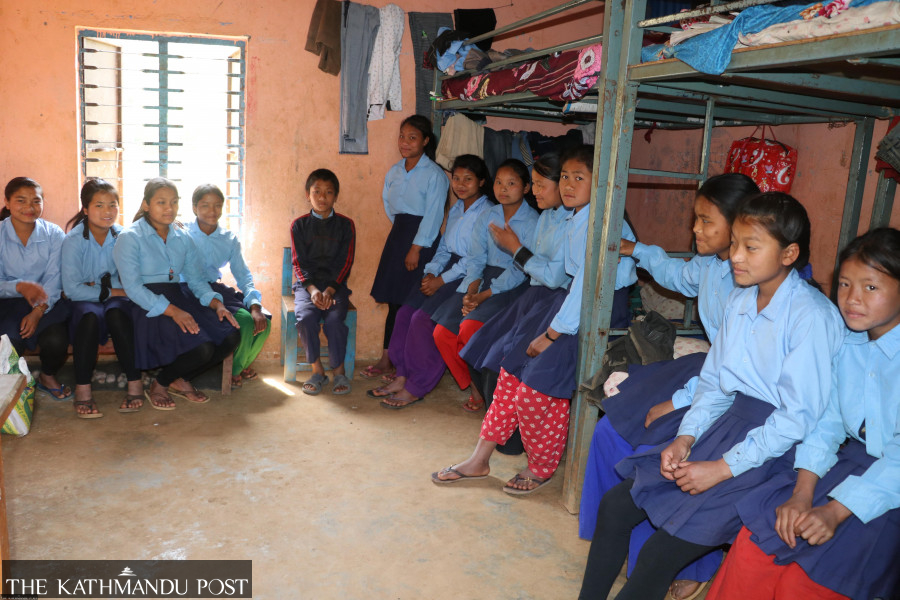 Susmi Chepang, 16, is an eighth grade student at Kalika Secondary School in Ward No. 8 of Benighat Rorang Rural Municipality in Dhading District. Before joining this school, she was enrolled in Gothibhanjyang Basic School also in the same district and it would take her about three hours to reach her school from her home in Dungbang. The daily commute to and from her school left her too exhausted to concentrate on her studies. She saw no point in continuing and therefore dropped out of Gothibhanjyang Basic School when she was in 5th grade in 2017.
"I had to leave for school at 7am and arrive at school at 10am. I would be so tired and hungry that I couldn't concentrate in class," she said. "I only arrived home at nightfall walking for hours through deep forests and steep paths. I couldn't take it anymore so I stopped my studies.
Susmi stayed at home and helped her family with household chores, helped out in the fields and also looked after her younger siblings for two years before enrolling again in 5th grade. at Kalika Secondary School in 2019.
A dozen of Susmi's friends also left school around the same time as her due to hardship. Most of the children in the Rural Municipality studied at Jaldevi Basic School near their settlements until the third grade. They were then transferred to Gothibhanjyang Basic School, an hour's walk from their village, for grades 4 and 5. The majority of the students then moved on to Kalika Secondary School.
For Susmi and her classmates, the opportunity to return to school came with the establishment of a hostel at Kalika Secondary School. The school, with the aim of providing students from remote villages with the opportunity to continue their studies without having to go through the difficulties of walking for hours each day to and from school, established the hostel in 2017, but Susmi and her friends were unaware at the time.
"When I left Gothibhanjyang Basic School in 2017, we were unaware of the hostel being set up at Kalika Secondary School," Susmi told the Post. "If we had known earlier, I wouldn't have missed two years of study.
Kalika Secondary School, which runs grades 1-10, currently has 23 students – 10 males and 13 females – staying at the school hostel.
Most Chepang children of school age are deprived of secondary education because they live in remote villages where there are hardly any secondary schools. Although Kalika Secondary School and Gothibhanjyang Basic School are in the same area of ​​the Rural Municipality, the remoteness of the area is such that attending classes for students as day students is fraught with difficulty. pitfalls.
"I was able to continue my studies only because the secondary school in Kalika has a hostel. I live in the hostel all year except holidays when I come home," she said.
Susmi's three sisters and one brother are also students at the same school and live in the school hostel.
One of Susmi's sisters, Sabita Chepang, is an 8th grade student. The 15-year-old says the creation of the hostel has rekindled her dream of finishing her education. "Hostel fulfilled my dream of studying. It has helped many children like us. I believe I can make positive changes in my community. I want to become a nurse and help people because access to health care is very poor in our village," Sabita said.
The hostel is run with the financial help of a social organization, explains the school director, Gopi Krishna Dahal.
"The 23 students from the Chepang community were housed and fed free of charge. Boys and girls have separate sleeping quarters and take turns cooking and cleaning," Dahal said.
Sajana Mainali, a teacher at the school, said the school checks on boarders from time to time. "The hostel built near the school has made it easier for the Chepang children to continue their studies. At the hostel, teachers and class supervisors inspect and observe the students," Mainali said.
Following in the footsteps of Kalika Secondary School, the Rural Municipality plans to establish hostels for students from disadvantaged backgrounds in other community schools within its jurisdiction.
"The state government has started preparations for the construction of a well-organized hostel at Shankhadevi Higher Secondary School in Benighat Rorang Municipality, where the majority of students are from the Chepang community. After the hostel is built, it will be easier for children from marginalized groups to continue their education," said Bodhraj Pathak, head of the rural municipality's education department.