KNUST students protest high hostel rent and petition management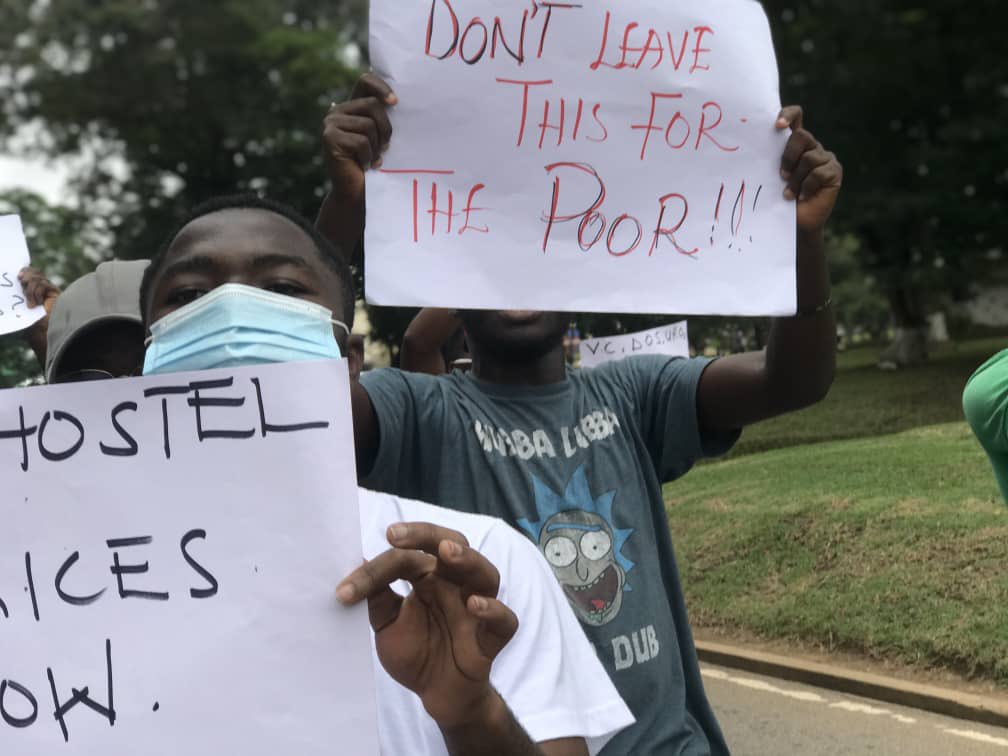 Students at the Kwame Nkrumah University of Science and Technology (KNUST) embarked on a protest against what they described as a "killer rise" in accommodation fees.
The protest, on social media platforms with the hashtag, #FixKnustHostelPrices and on campus, is to demand that management intervene to stop the high cost of housing being borne by students.
Some students who took to the streets of campus kept chanting 'charcoal seller's son should get a place to live' as they held up signs reading such as 'Hostel prices are higher what are the tuition fees? Poor students matter."
"We can't pay, speak for us", shouts the main administration #KNUSTLive. #FixKNUSTHostelPrices. pic.twitter.com/UdxTk5OHl9

— KNUST Live (@KNUST_Live) July 16, 2021
According to JoyNews'Nana Yaw Gyimah, rental fees for some hostels, per year, can reach GH₵10,000.00 for executive rooms and GH₵9,000 for standard rooms. The lowest rate for a standard room is GH₵3,500.
In addition, images circulating on social media alleged that some hostel authorities had, in less than a week, doubled the price of accommodation.
You presented this as your hostel prices and in just a few weeks you decide to top up🤦🏾‍♂️ we are not in normal times and the economy of this country is not what it used to be..#fixknusthostelprices pic.twitter.com/vF7HXAPuRc

— Mr. Ross 🇬🇭 (@Ross7GH) July 16, 2021
Speaking to University Relations Officer Nana Yaw Gyimah, Dr Norris Bekoe confirmed that information about the fate of the aggrieved students has reached his office.
He disclosed that the University authorities were engaging relevant stakeholders, both the private hostel authorities and the hostel association under KNUST, to reach an amicable solution.
"Management led by the Office of the Dean of Students has had discussions with hostel managers, particularly those who have registered with us. The understanding was that their increase, if any, should not exceed 10 percent. Usually, the increase is between 10 and 12%. So most of them adhere to this, but those who are not enrolled in the University charge these astronomical rents.
"We met with student leaders and in effect asked them to rescind their decision to embark on this peaceful march to the office of the Department of Rent Control. Because what they want to do is what we are trying to do. That is, talking to landlords so they can reduce the rent," he added.
Friday's march to the Rent Control Department, by aggrieved students, Dr Norris Bekoe noted, was called off after engagements with the Student Representative Council (SRC).
"The student management has agreed not to embark on this march, but the discussion is ongoing. Even hostels that are not registered with us, we have formed teams, so these people will engage the owners of these hostels one-on-one. Then we can find an amicable solution to some of these things.
However, the concerned student association of KNUST has submitted a petition to the university management, describing the increase in accommodation costs as unimaginable and exorbitant, as many households are still struggling to make ends meet, due to the adverse effects of the Covid-19 pandemic. .
Adding that "the self-realization of individuals through education must not be compromised, let alone the exploitation by extremists of capital in the name of the free market. This is not just an economic challenge, but a human rights issue.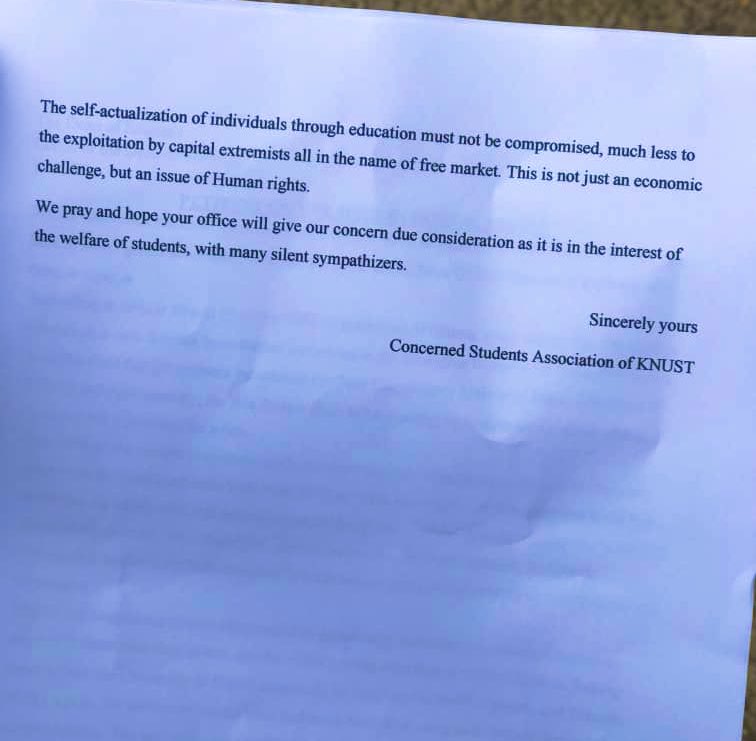 Meanwhile, Dr. Norris Bekoe revealed that the institution has 55 deals with private developers who want to build hostels on campus.
According to him, three of the developers will start work in September this year.
"They are going to build something like a hostel with a capacity of 20,000 beds. We also asked investors that if you want to invest in something so profitable, you can come to KNUST, we will give you a piece of land. You build, operate for about 45 years, then transfer ownership to the university," he added.